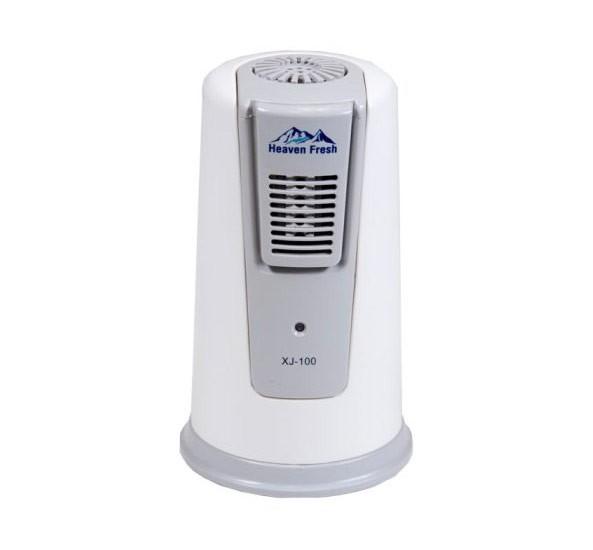 HF50 Ionic Refrigerator Air Purifier
HF50
The HF 10 Refrigerator Air Purifier generates Active Oxygen that not only neutralizes the reproductive capacity of viruses and bacteria, but also helps to remove pollutants and unpleasant odours coming from your fridge. Equipped with a microcomputer, the silent and filter-less HF 10 controls its own two hour cleaning cycle automatically. The HF 10 helps to maintain the freshness and quality of food for a substantially longer period, thereby saving food costs.
14.99     
|
     VAT Included     
|
     Free DPD Delivery
Overview / Benefits
---
Kill bacteria & sterilize with active oxygen.
Instantaneously fill your refrigerator with ozone, kills 95% of fungi, bacteria, mould from contaminated food and vegetable. Ozone causes the change of bacteria structure and a so-called metastasis process will destroy the bacteria. A standard concentration of ozone (0.04ppm - 0.08ppm) can kill over 96% of assorted microorganism such as colibacillus (e-coli) and bacillus pyocyaneus within 3 hours. Remove stink and bad odor. 
Ozone can also prevent odor cross contamination of food by oxidizing and disintegrating organic stink. When the refrigerator is opened, you will notice that only fresh smell will come out.
Breakdown pesticide while maintaining vitamin. 
Ozone effectively oxidize and breakdown poisonous pesticide on the surface of fruit and vegetable but still maintaining the vitamin and nutrition on the food.
Maintain freshness of food. 
Ozone can control the decay process of fruit and vegetable, together with its sterilization and odor removal properties can extend the shelf life of meat, fruit and vegetable.
No more food poisoning symptoms 
Consumption of decayed food will cause food poisoning with symptoms of nausea, vomit, diarrhea and could even be life threatening. With HF 10, you and your family are free from food poisoning.
Healthier with more vitamin and fresh food. 
HF 10 preserves the vitamin and the nutrition of your food. Thus your health is better with fresher & higher nutrition food.
No more pesticide. 
Pesticide on your vegetables or fruit can be harmful to your health. With HF 10, you only consume food that is free from pesticide.
SPECIFICATIONS
Effective space: 250 liters or 55 gallons.
Ozone concentration <= 0.5mg/cm3 or <= 0.08 ppm. 
Power source: 4 * N0.2 dry cell batteries (6W). 
Power consumption: continous operation for 3 months with each change of batteries.
Rated voltage : DC 6V. 
Dimension: 130*65*80(mm) or 5.2*2.6*3.2(inches). 
Weight: 190g or 0.41lbs. 
Microcomputer controlled automatic operation sterilizes the refrigerator every 2 hours. The operation indicator flashes continuosly when the device is operating, and flashes temporally every 15 seconds when the device is on a standby mode (waits to run). 
Light flashes continously: normal operation
Red light: insufficient power 
Light flashes every 15 seconds: standby mode
LO mode: 150second/hour cyclical operation 
HI mode: 4 minutes/hour cyclical operation 
VAT Included     |     Free DPD Delivery