NaturoPure™ HF 380A Intelligent Air Purifier with Remote Control
HF380A
This unique and top of the line Heaven Fresh air purifier is equipped with advanced sensor technology which automatically monitors air quality. The built-in sensors detect the presence of dust, allergens, and odors. When detected an LED light indicates the amount of pollution detected. The NaturoPure HF 380A offers 7 leading technologies covering virtually every pollutant ….Ionizer (with relatively no ozone), HEPA filter, Activated carbon filter, Photocatalytic oxidation filter, Germicidal UV lamp, Dust collection grid and Washable pre-filter.With a powerful,quiet fan the purifier covers 650 ft².(60m2).
159.00     
|
     VAT Included     
|
     Free DPD Delivery
Scroll Down to Buy
Overview
---
Outperforms Consumer Reports Top-Rated Air Purifier in Toxin Test! Nearly 100% effective in clinical tests, and five times more effective in toxin removal test than top-rated model. Also killed 100% of aspergillus mold in clinical tests.
Odor, dust and allergen sensors let you know when certain pollutants are detected, such as cigarette smoke, chemicals, dust mites, pollen, pet dander, mold spores and many more.
The clean air monitor tells you how clean or polluted the air is, removing the guesswork.
Select "Automatic" mode to maximize performance and energy savings.
Diagnostic sensors indicate when to replace filters, and when to clean the metal dust collector grid.
The UV light and negative ion indicators let you know that these functions are working, and indicate when the UV lamp needs to be replaced, so it is not left in too long or replaced prematurely.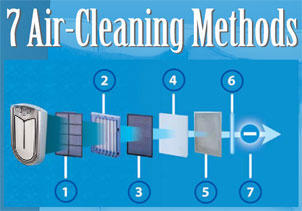 The washable pre filter does not require replacement, and enhances the durability and performance of the other filters.
Electrostatically-charged dust collection grideffectively traps charged particles & pollutants like a magnet. Simply wipe clean when dirty.
Activated carbon filter traps chemicals, gases and odors.
Long-lasting, high-efficiency HEPA filter - most effective way to capture dust and allergens.
Photocatalytic oxidation (TiO2) filter which effectively reduces chemicals, bacteria and odors.
Germicidal UV lamp destroys micro-organisms.
Air-cleaning negative ions are circulated throughout the room. Completely safe (virtually no ozone), and scientifically proven to be effective and to enhance filter efficiency.
features
---
Odour, dust and allergen sensors for automatic air quality control
UV light and Negative Ion indicator sensor
Photo catalytic oxidation (TiO2) filter which effectively reduces chemicals
HEPA filter – 99.97% collections rate 
SPECIFICATIONS
---
Voltage: 220~240V/50~60Hz
Power Consumption: 80 Watts (Highest Fan Setting)
Negative Ion Output: >4,000,000/cm3
UV Wavelength: 254 nm (germicidal wavelength)
Sound Level (dB): Quiet (20), Low (35), Medium (45), High (52)
Air Volume: 106cfm (Highest Fan Setting)
HEPA Filter Removal Rate: 99.97% at 0.3 microns
Dimensions (in): 24 x 13.5 x 10
Weight (lbs): 15
Applicable Area: Up to 650 sq. ft.
Ozone Output: Less than 1 part per billion at 2" away from unit (UL standard is <50ppb) 
VAT Included     |     Free DPD Delivery