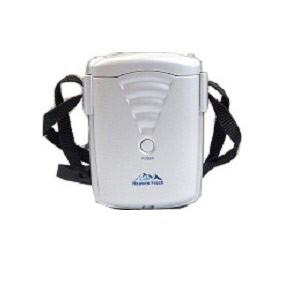 HF85 Personal Ionic Air Purifier W/Built-in Humidifier
HF85
Pack 300 people into a narrow metal tube and even the most sophisticated aircraft filters will have a hard time clearing the air of allergens and bacteria. The HF 85 Personal Ionic Air Purifier delivers ion-rich air to the mouth and nose. The unit is worn around the neck and weighs just 110 grams. It also features a built-in humidifier to combat dry cabin air.
This personal air purifier can be worn around the neck. It uses plasma breeze technology to deliver ion rich air to mouth and nose, providing clean, healthy air. Personal air purifier runs on 4 AAA batteries (not included) or AC adapter.
Features
---
Provides clean and healthy air wherever you go 
Built-in humidifier prevents dryness 
Light weight, compact and easy to carry 
AC/DC dual power – use it anywhere you go!
Free DPD Delivery.
VAT Included.