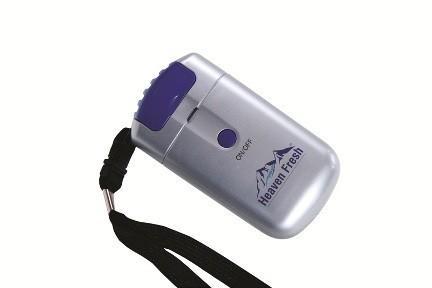 HF86 Personal Ionic Air Purifier
HF86
The personal, portable, lightweight HF 86 ionic air purifier is worn around the neck delivering clean, fresh air to the mouth and nose. This is the ideal travel companion for air travelers and operates on 2 AAA batteries (not included). The total weight of the unit is just 55 grams making it truly portable.
Features
---
Provides clean and healthy air wherever you go 
Light weight, compact and easy to carry 
DC powered – use it anywhere you go! 
SPECIFICATIONS
---
Rated voltage =  DC 3V, 2 AAA batteries (Not included) 
Power consumption =  0.5 W
Ion output Max. =  10,000/cm³
Active oxygen output approx. =  0.015 – 0.03 ppm
Dimensions =  3.62" (H) x 1.93" (W) x 1.14" (L)
9.20 cm (H) x 4.90 cm (W) x 2.90 cm (L)
Weight =  0.12 lb (55 g)
Free DPD Delivery.
VAT Included.